It is heartening when a challenge is solved with a solution that just makes sense. If you are a parent that has a child with Cortical Visual Impairment (CVI), you understand the challenges related to that diagnosis very acutely.
How could you not? But while the healthcare system in the United States can be frustrating for families with uncommon diagnoses, there is a silver lining. That system creates opportunities for innovative businesses to fill the gap by creating amazing solutions that solve real problems.
CVi Connect is one of those solutions. This state-of-the-art ipad app is a new and powerful tool to assist children with CVI. Its intelligent software captures data behind the scenes to allow CVi Connect Support Professionals to enrich the experience of the ipad app by creating additional activities. CVi Connect also has created an active forum where users of the app can get their questions answered and discuss ideas in a community setting.
What makes the CVi Connect iPad app different? If you're a CVI parent, or someone who has worked with CVI patients, you may have seen other apps targeting CVI. The apps aim to assist individuals with CVI by showing visual queues, working to stimulate the areas of the brain that control visual processing and the visual pathways of the brain.
But the CVi Connect iPad app is different.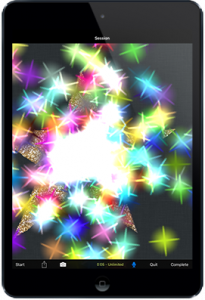 First, the CVi Connect app is smart. It reacts to the experience of the user, stores the data about how a user responds to a particular activity and then presents that data back to the parent or TVI. Capturing this data allows parents and TVIs to create follow-on activities based on how the user responds.
Second, not all users are the same, so there has to be something that allows the technology to make sure they are presented exercises that are good fit for them. The CVI Range Score, developed by Dr. Christine Roman-Lantzy, is what allows users of the CVi Connect iPad app to have an experience that is tailored to them. Pretty neat.
One of the hot topics in technology is something called "big data." It is a nebulous term, but essentially it means that all software being built is creating a huge amount of data. This begs the question, "What can we do with all this data to help improve processes?"
The CVi Connect app is not just displaying visual targets to users. By using the camera on the iPad, the app is "observing" and recording a number of things:
when an individual is looking at the screen

how long they are looking at the screen

if they touch the screen

and much more.
By capturing all that data, CVi Connect can use it to help TVIs both refine future activity sets, while also enhancing the functionality of the app itself. The more usage of the app, the more "big data" is available and the more refinements can be made. CVi Connect is very excited about leveraging these cutting edge tactics to enhance our technology and help individuals with CVI improve their eyesight.
The CVi Connect Forum
But, CVi Connect wants your help to make the technology even better.
The CVi Connect forum is available for CVi Connect app users to discuss ideas, ask questions and just talk to other individuals affected by CVI. There's a good chance that if you have a question about the app, someone else has either already asked that question or will ask it in the future. The forum also allows you to ask questions that will be answered by CVi Connect staff. The dialog around your question is then logged in the forum and made available for the next person who has that question.
CVi Connect knows there are many groups of people who care deeply about CVI and those affected by it.  The CVi Connect Forum is an ideal place to discuss ideas and ask questions with other CVI-minded individuals – parents, teachers, professionals and CVi Connect staff. If you or a family member is involved with CVI or has a CVI child, please spread the word (click here to share the forum to Facebook) and help make the CVi Connect Forum the comprehensive hub for all CVI related conversations. CVi Connect is committed to making it your community.
CVi Connect Blog
CVi Connect will not just work to continually enhance its technology; it will also provide consistent, valuable content to the CVI Connect community. The CVi Connect blog contains the latest CVI news, recent updates to the iPad app, and CVI events across the country. There is also app-specific content posted to our blog – things like tutorials, getting started guides and new feature updates. The blog will also share any other important information that is valuable to the CVi Connect community. Finally, CVi Connect sends out a monthly newsletter with the latest articles and CVi Connect news. Click here to subscribe to our newsletter and get great content sent straight to your inbox.
CVi Connect is focused on the opportunity to positively affect the lives of individuals with CVI. It has an amazing team that works hard everyday to provide the best technology and service possible.
CVi Connect sees a world where CVI patients have better tools at their disposal, where the CVI community is more connected, and where families and professionals have great information available to make better decisions in their journey with CVI.
CVi Connect invites you to join with us and help improve the lives of those affected by CVI.
https://cviconnect.co/wp-content/uploads/2017/04/the-future-of-cvi-connect.jpg
321
845
Steve Hendrix
https://cviconnect.co/wp-content/uploads/2017/01/cvi-logo-v1.png
Steve Hendrix
2017-04-14 11:07:44
2017-04-14 11:07:44
The Future of CVI – Why CVi Connect is Excited About Recent Advances